Learn about Divine Naples Club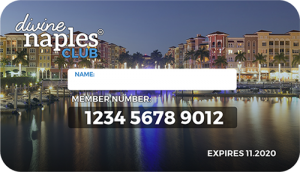 The Divine Naples Club is a program that allows members to enjoy discounts when they shop at local businesses.
We partner with local business owners to offer discounts to our members.
Check the list of participating businesses on our website. You can benefit from membership by getting discounts at your favorite local establishments.
An average dinner out a restaurant costs about $100. With a Divine Naples Club card, you will get at least 10% off your bill.
We offer these savings for things you are already doing! And if you use the card at stores, hair salons, spas, and other services providers…your savings will continue to grow. The more you use the card, the more you save.
Don't miss out on the the savings…Sign-up today!
Divine Naples
847 4th Avenue South, Suite D
Naples, FL 34102